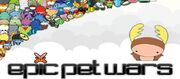 Epic Pet Wars was a multi-platform massive multiplayer online game (MMO) developed by Miraphonic. In Epic Pet Wars, players adopt Pets in order to Train and Battle other pets. People can play Epic Pet Wars on Facebook, the IPhone, the IPod Touch, or EpicPetWars.com. The game is now discontinued. Why was it discontinued? <- Owner of site please answer this.
External Links
Edit
Ad blocker interference detected!
Wikia is a free-to-use site that makes money from advertising. We have a modified experience for viewers using ad blockers

Wikia is not accessible if you've made further modifications. Remove the custom ad blocker rule(s) and the page will load as expected.